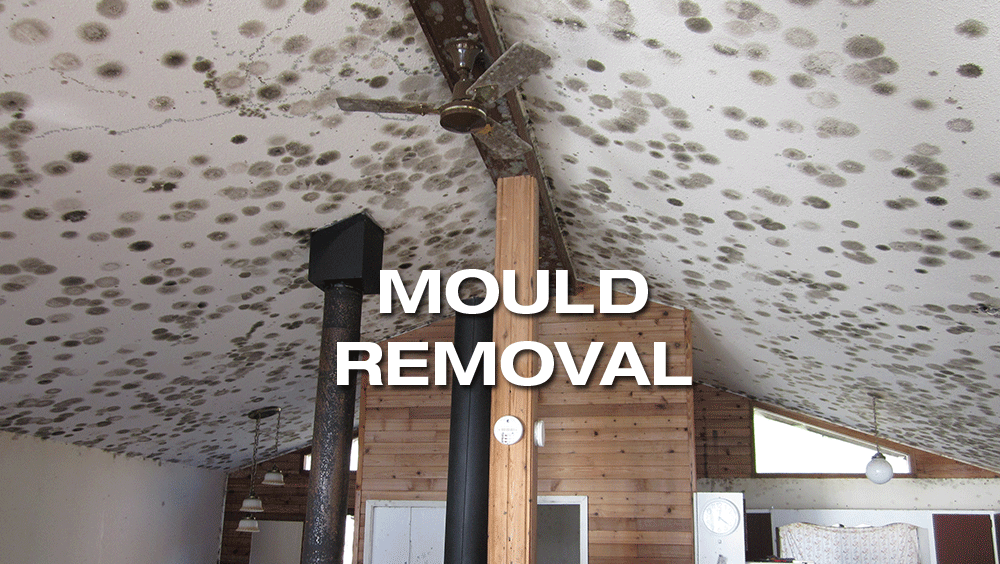 Remove Toxic Mold From Your Home For Good!
Proudly  serving the greater Ottawa region or over 15 years.
Mold can be dangerous to certain individuals, that being said if treated and handled correctly it can be removed permanently from your home or business with the help of a certified professional.
On this page, you'll find everything from how mold starts, to when to hire a specialist vs. doing it yourself. You'll also learn about the implications as well as many other questions we frequently get asked.
Introduction to Mold
Mould exists everywhere in nature both inside and out. Mold is part of our everyday life and it can actually both good and bad.
For example, mold found outside your home such as in composting or in the production of beer, wine, or cheese is quite common and certainly not harmful.
On the other hand, when mold is discovered within the home, it is a completely different story. Mold can decompose building materials, structures, causes allergic reactions and can make you very sick.
Mold Inside the Home = Bad
Mold Outside the Home = Good
Active mould growth occurs due to high moisture and/or extended higher humidity levels in the residence or business property.
Mold growth occurs from excessive moisture or high humidity in the home or business property. When moisture happens mold will flourish. Situations such as  flood, pipe burst, overflow or poor ventilation are all causes of excessive moisture.
The key to keeping a home mold free is by not allowing excessive moisture. This will ensure a long-lasting and healthy home.
Over the past decade, mold removal technology has evolved so much that companies are now able to deal with some of the most dangerous situations in a matter of hours.
Hiring a Mold Removal Specialist vs. DYI Mold Removal
Level 1, 2, and 3 are the different conditions of Mold Contaminations. Level 1 being least and Level 3 being most severe.
Level 1 Mold
Level 1 Mold contamination is less than 10 Sq. feet. Anyone who is healthy with the appropriate protective equipment, (HEPA Mask, Tyvek Suit and goggles) and some basic knowledge can take care of this situation relatively easily. For the most part it is not worth the client's time to hire technicians like ours for this as it would be too costly for how easily it can be removed.
Common examples of Level 1 Mold would include: Shower Tile Mold, Small leak from plumbing on cupboards in the kitchen, Window sill mould, ect..
Level 2 Mold
Level 2 Mold Contamination is any visible growth ranging from 10 to 100 Square feet.
At this level, specialized equipment is needed.  PPE and safety gear as well as a certified experienced team are mandatory in types of situations.
We recommend that at the very least the technicians should have IICRC Certification of Applied Microbial Remediation Technician  (AMRT) in order to be qualified to be performing Mold Remediation Services.
The reason for such a serious level of safety is because the exposure can be extremely dangerous for your health. Some experts compare this exposure to smoking 300 cigarettes in 30 seconds (it's that bad!).
It's  the amount of mould spores you will be inhaling which can trigger a series of health problems (i.e. Sore Throat, Infections, Allergies and Asthma). As well, you risk spreading mold throughout your home creating mold growth in other non affected areas.
For this reason the guidelines are set in place for mold abatement; to protect the technicians as well as the occupants without cross contamination of the home.
Level 3 Mold
Level 3 mold abatement is an area of visible mold growth that is greater than 100 Sq. feet (for an extremely large area it would require the use of powered oxygen masks and a decontamination shower system to protect the technician)
This is a most severe situation, it would require you call a specialist immediately. Especially if you work or live in an environment like this. Shown Here Below is a Photo of what Condition 3 mold growth contamination would be like.
What is mold removal/remediation?
Mold remediation also known as Mold Abatement is the process in which visible and non visible mold growth is removed without cross contaminating other areas of the property while ensuring the safety and protection of all technicians and occupants.
One specific toxigenic Mould – Stachybotrys Chartarum, most commonly referred to as "black mold" can be very hazardous to your health.  Stachybotrys can release dangerous mycotoxins that are the same toxins used as biological weapons in the Gulf and Korean War (Yellow Rain)
These black and toxigenic molds can be found in your bathroom, basement, attic.. basically everywhere in your living space that has been affected by excessive or sudden moisture.
A successful mold remediation or abatement will not only remove the contaminants, but also address the cause of moisture issues that initially caused the mold growth. This is essential as mould is caused by high moisture on organic materials typically found inside of a house or business.
Every  mold removal or remediation project is distinctively different by the moisture causes as well as associated damage. It's therefore best to have it done by certified and experienced experts with specialized equipment.

Please Contact Us ASAP If You Need a FREE Mould Remediation Consultation.
A Mold Problem can be a very serious situation therefore requires immediate attention. Simply fill in the contact form below with your request and information or call us directly. We usually respond very promptly and can often book an inspection within 24 to 48 hours.